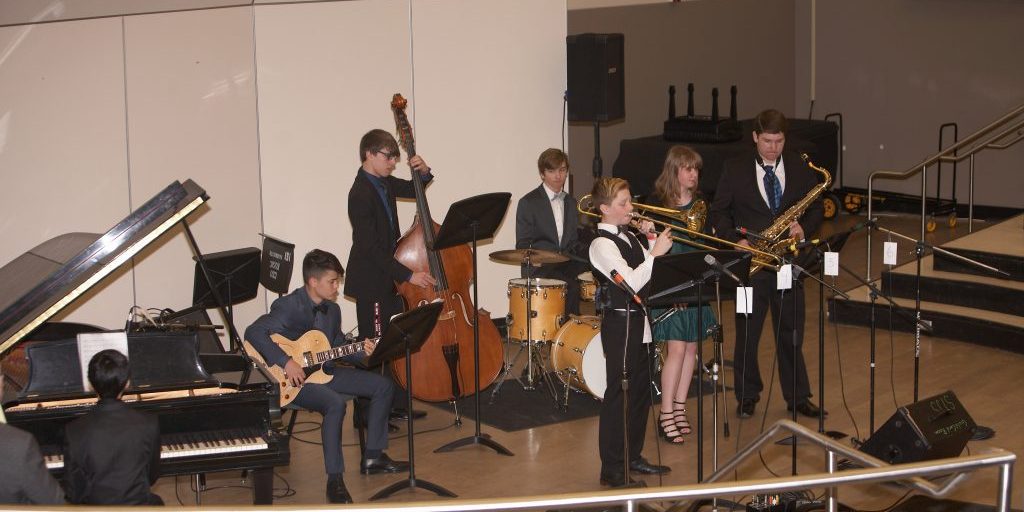 Band Registration for 2020 is CLOSED
Qualifications
All band members younger than 22 (or enrolled in a minimum of 6 college credits).
The band performs in one or more of the styles described in the "Style Guide" (on the Traditional Jazz Educators Network Web site).
Less than 9 musicians perform at a time (in order to weave meaningful, improvised, ensemble counterpoint).
$150 Band Registration Fee Includes:
All-events festival access for directors and individual band members.
Adjudicated performances. (Piano, bass/guitar amps and drums/cymbals provided.)
Onstage Feedback clinic based on performance. (Piano, amps and drums provided.)
Complimentary admission and pizza lunch for band directors and students to the noontime Jazz 'n' Pizza mentored jam.
Friday Opening Concert featuring San Bruno trombonist Clint Baker & the All-Star Clinicians Band
Jazz Workshop by Clint Baker
Scholarship/ Award Presentations and Command Performances.
Group band photos available for purchase.
Instrument Check.
Festival Shirts available for online preorders.
Registration Fees
You may pay the band registration fees online by adding to cart below.  If you are registering a single band for your school, use the "Band Registration (Single Band)" option.
If you are registering multiple bands from the same director/school, the first band is $150 and additional bands are $125 each.
Tune / Soloist Form
Please fill out the form below prior to January 17th.